Johannesburg pt. 1
My first day in Joburg came after 26 hours of travel and consisted solely of the Apartheid Museum and meeting my tour group. Ideally, I would've gone to the museum when I was better rested, but since it's closed on Mon/Tues, it was now or never. All of the thoughts the museum evoked were far too lengthy for this post, but can be read here.
After fueling my mind and my stomach at the museum, I made my way back to the hotel to meet my trip mates and guides. Staying at the Holiday Inn was an expected treat in the sense that I read the itinerary, but definitely did not set a trend for the rest of our accommodations. I also managed to sneak in an excellent dinner at Tikkalicious near the hotel in Rosebank. One plus of the tiredness of travel was that I was ready to pass out at 9pm and rest up for our 7 am bus to Kruger National Park.
.
Greater Kruger National Park
The majority of our first morning in South Africa consisted of driving into the Greater Kruger National Park ecosystem. We weren't actually in the park this night, but in a lovely permanent tent lodge still subject to the visits of wildlife. We heard lions in the night, birds in the morning, and animals that I couldn't identify throughout our time.
Our Intrepid trip group only had 4 participants, and the lodge we stayed at was deserted save for our group. Though I read September was a popular time to visit South Africa, the lack of people would indicate otherwise. Or perhaps they didn't literally mean the 2nd of September. Either way, I appreciated having the two pools and many decks of the lodge to ourselves. We even got a few animal visitors!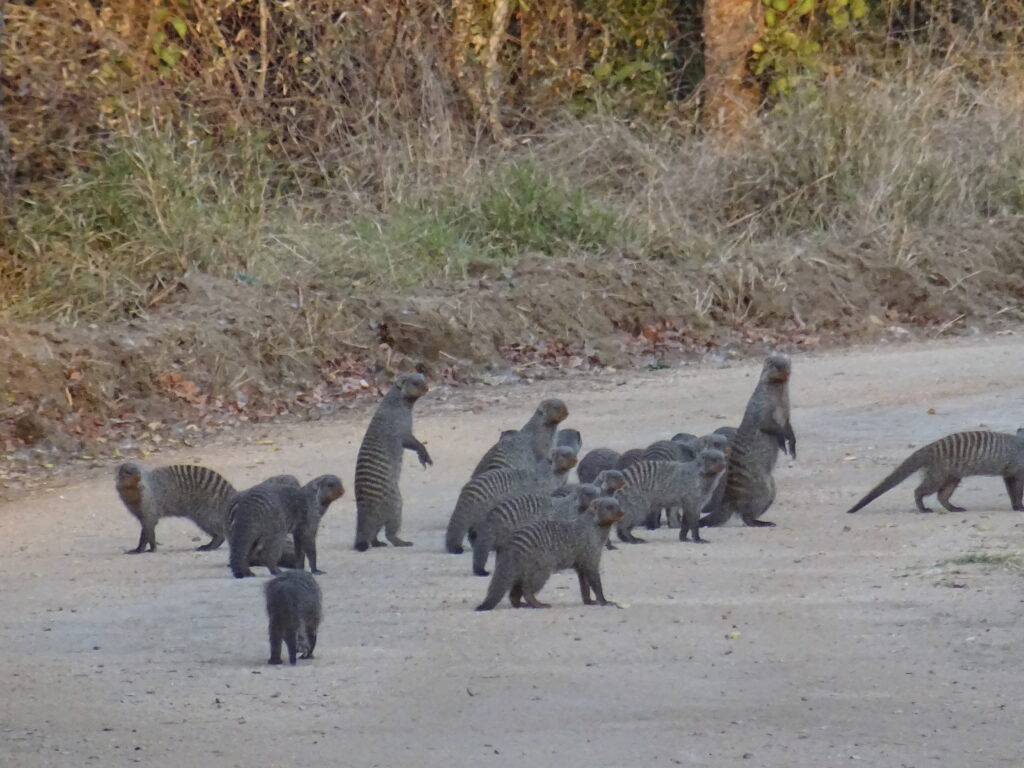 .
Even though it's more globally accessible than the other experiences, one of my favorite parts was seeing the night sky. Since I've lived in cities filled with light pollution my whole life, I've never seen the light halo of the Milky Way for myself. That is until I was in the Greater Kruger area and subject to the load shedding of South Africa. Night has always been my favorite time of day, partially because of the peace it brings.
.
Kruger Park proper
After a night in the permanent tents, we made our way into the park proper. On our way in we managed to see some wild dogs as our first "animal sighting." Quotes because we didn't travel all this way to see dogs, cute as they were. The animals were kind to our group though, and we managed to see giraffes, zebras, antelope, elephants, and bison as we made our way to the Kruger camp.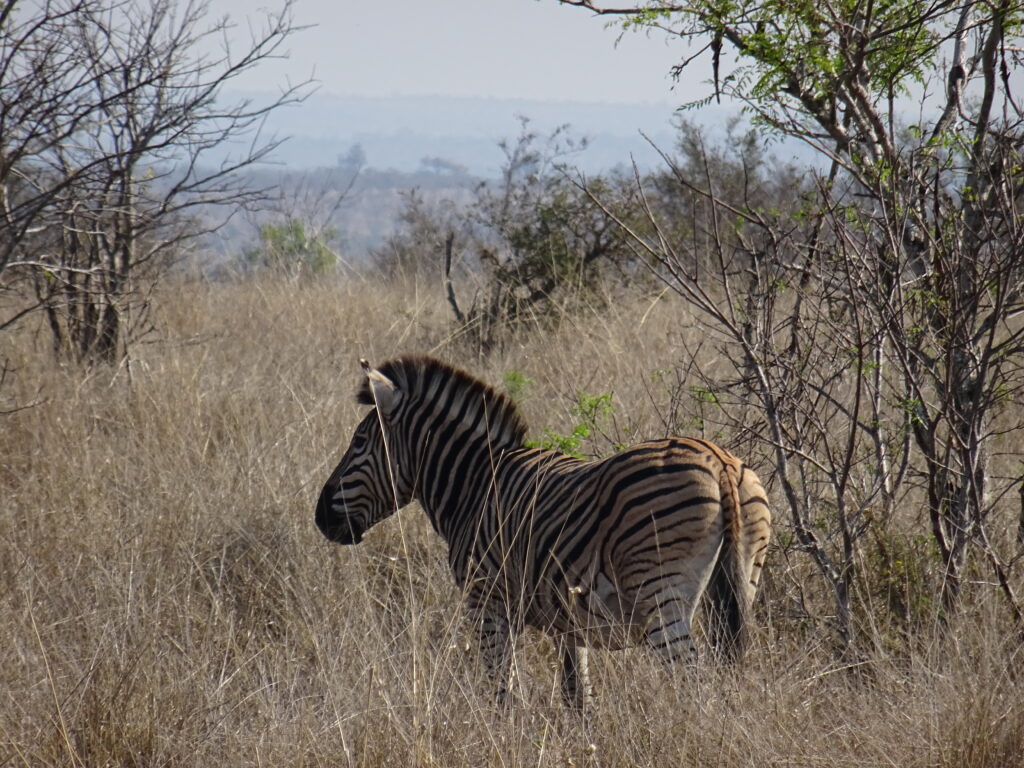 .
After arriving at the camp, I took a dip in the freezing pool, much to the amusement of the neighboring monkeys. I also talked to some of the South Africans in the lodge—all of whom were white, which I thought was interesting. Every campground we visited and most of the passing cars held only white tourists. There's some more commentary I have on this, but primarily in my Apartheid Museum post.
Once I showered, dinner-ed, and journaled, our group made our way on a night drive through the game reserves. If you have to choose between a sunset and night tour, I would probably choose the sunset tour. It's golden hour for photos, and it's just plain easier to see with sunlight over flashlights. Night was also much colder for us in September. Our guides setup our tents and then we were off to bed.
.
Journey into Botswana
After wrapping up at Kruger, we made our way to the Botswana border. Botswana and South Africa have a natural border from the Limpopo river, which was narrower than I thought. To save ourselves from the afternoon/evening border congestion, we camped on the South African side and then made our way in in the morning.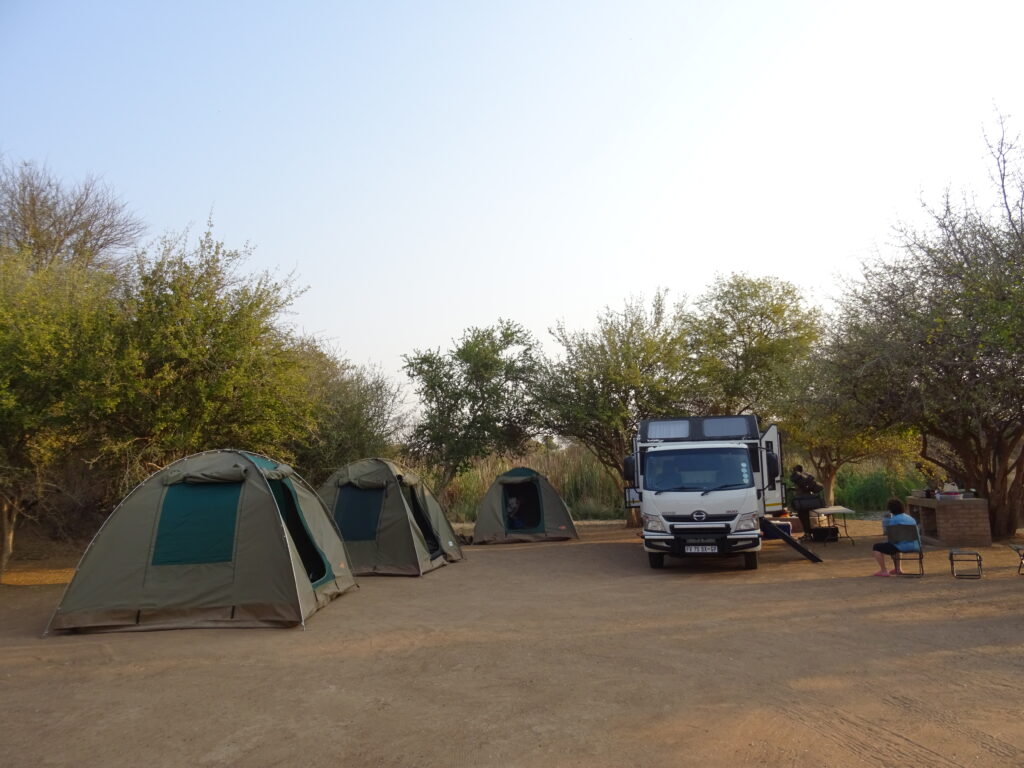 .
The border crossing took a bit of time, but was ultimately uneventful save for a very odd comment from the South African officer. After he looked at me and I wordlessly handed him my passport, he whispered, "The eyes….." and after glancing at my passport continued, "you have the eyes of a cow." Probably the weirdest thing a border agent has ever said, let alone whispered to me.
.
Into Goo Moremi Gorge
This heifer and the rest of the cattle then made their way to the Goo Moremi Gorge chalet. Our guides did an excellent job with our campsites, but the chalet was by far the best accommodation. And while very dusty/sandy thanks to the Kalahari, the peace of the desert was incomparable. Who needs spotty wi-fi when you have peace (and a tablet with ebooks and your journal)?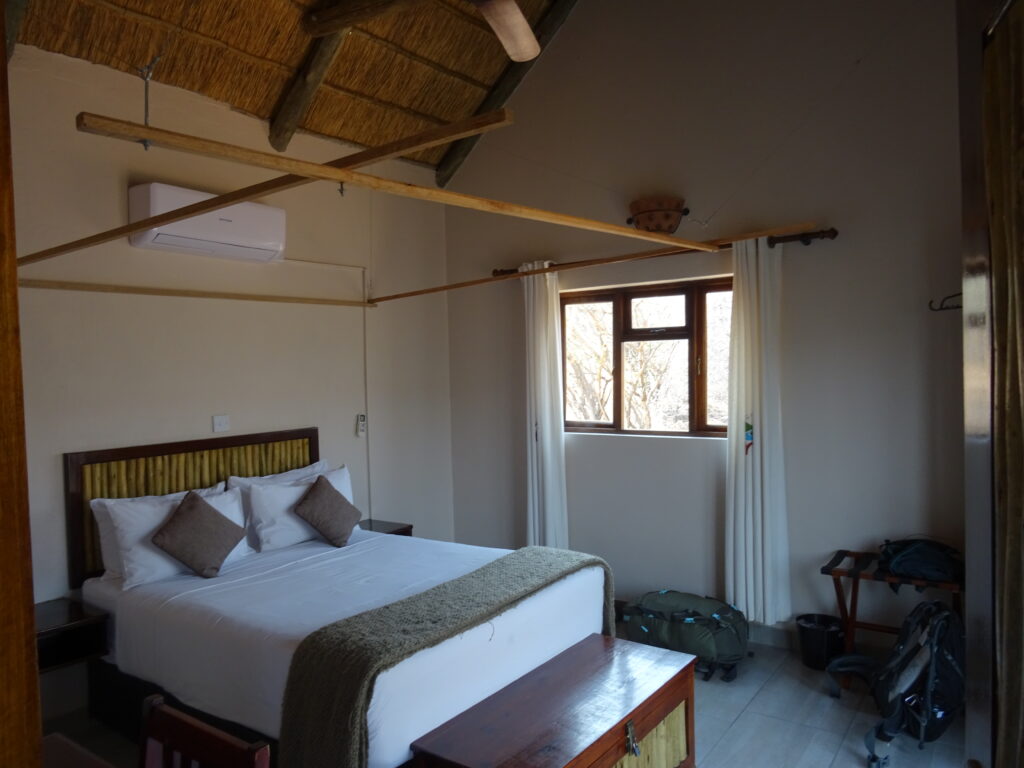 .
Our day concluded with a hike to the waterfalls of the gorge. This was the only activity in which I regretted my choice to only bring my Adidas superstars. We ended up having to use ropes to hoist ourselves across the rock face with very narrow footholds. We also crossed the stream several times, one of which led to a trip mate falling (gracefully) in. But we made it, and we saw a Kudu run majestically past us.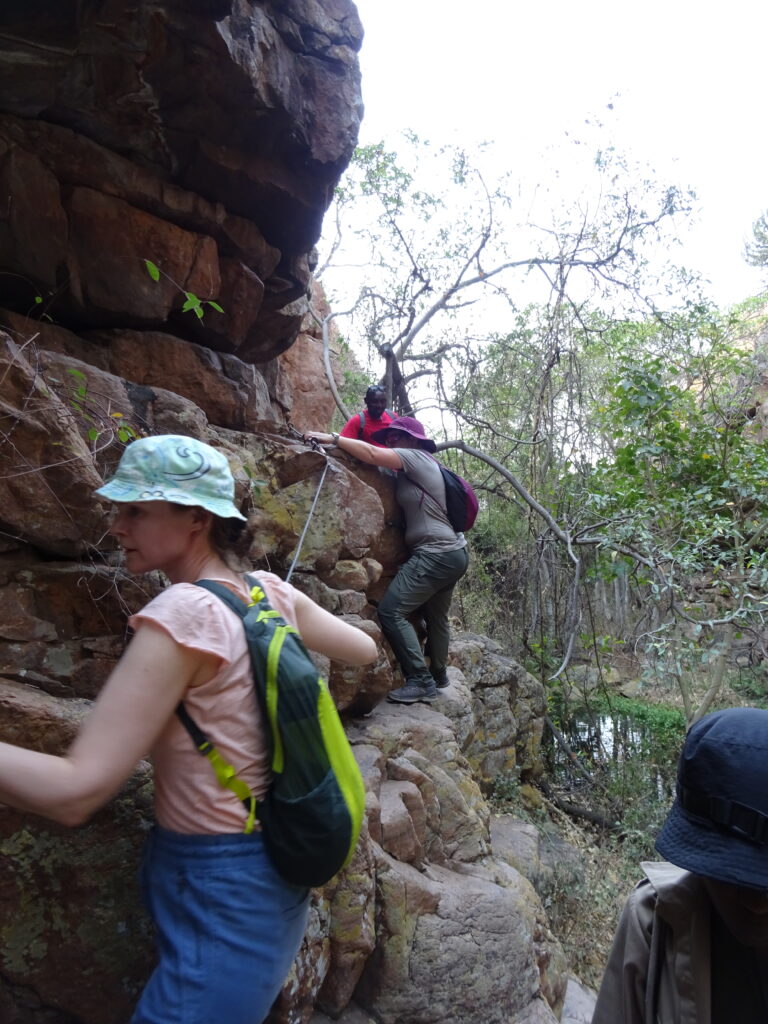 .
For the young and able, hiking shoes aren't an absolute necessity, but recommended if you have the space. For only a 1.5 hour hike, I was comfortable in leisure leggings, though at some points with butt-scooting there was a considerable risk of ripping them. It was the first and last truly strenuous activity of the trip.
.
Nata
Our time in Nata was short but sweet. After arriving to our lodge and another delicious lunch from our chef, we made our way to the pool. Every single pool on this trip was ice cold. After our hot days, it was quite a shock to the system. Refreshing, but shocking.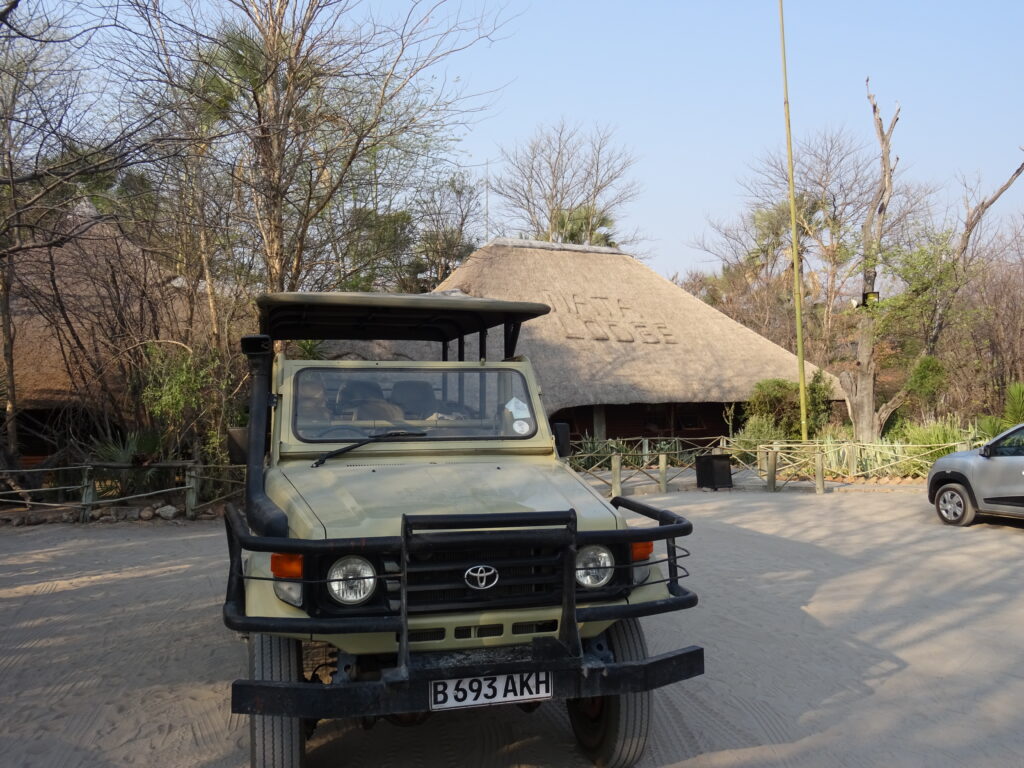 .
The only included activity on this day was a sunset drive through the salt flats. Other than a pack of wildebeests, there weren't many animal sightings on this drive. I felt content with the cooling desert air.
While I was not as brave as one of the other tourists, I can confirm second hand that it was salty. I also took this opportunity to play around with perspective in photos. Drinks in hand, we all watched the sun set, and then made our way back to the lodge. I think my malaria tablets were starting to react with my system, so I returned to my room to shower (outdoors!) and sleep.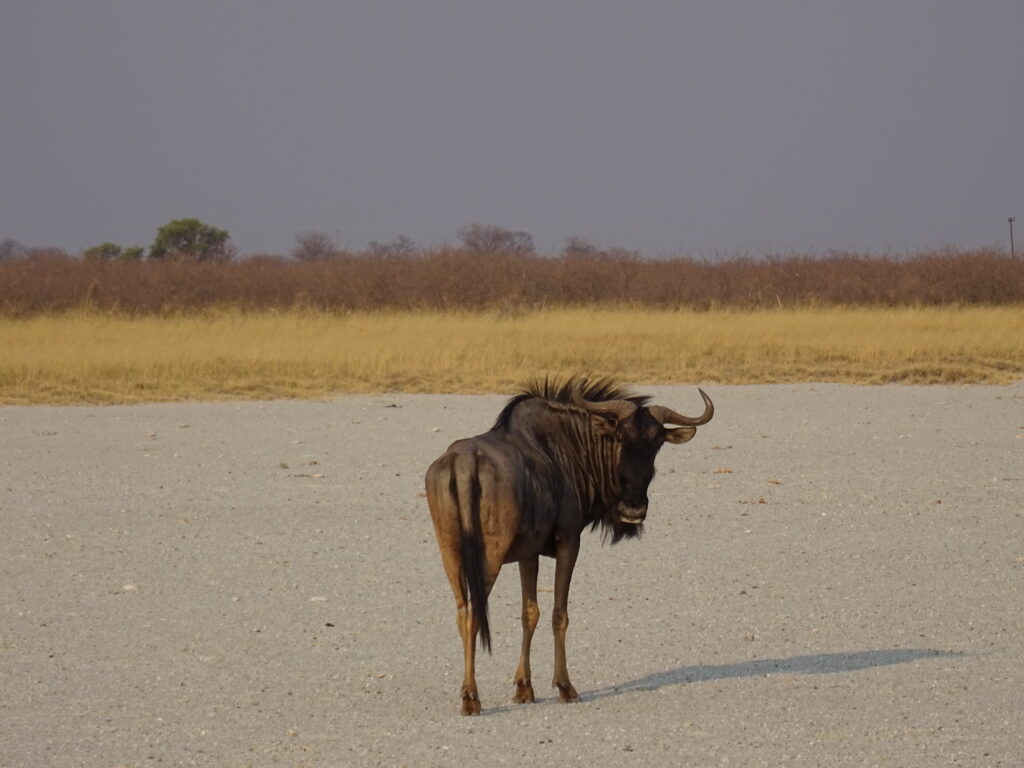 .
First day in Zimbabwe
The next morning we woke up bright and early to head to the unpredictable Zimbabwe border. Though our guide told us to prepare to pay 40 USD, the visa ended up being 30 USD — except for the British (55) and Canadians (75!) But after a lengthy queue, we were through to the falls!
We had quite the list of activities to choose from, and so after arriving at Shearwater Village, we headed into the office. After hearing our many, many options, we all paid the exorbitant fees. Especially compared to the rest of our trip, Victoria Falls was both more expensive and more commercial than I expected.
The only included activity in Victoria Falls was a brewery tour. Since no one in our group drank beer, it was a bit…unnecessary, but the food in the restaurant after was absolutely divine. A bit expensive since all prices were in USD, but divine. The flies and mosquitos were also more present here (and throughout the city) than the other locales we visited.
Our day ended with a sunset cruise along the Zambezi. Technically, we also drifted into Zambia! The sunset was more magnificent than I expected, and even the addition of an unruly Texan did not detract from the magic. Plus, we saw hippos! Very happy hippos, by my estimation.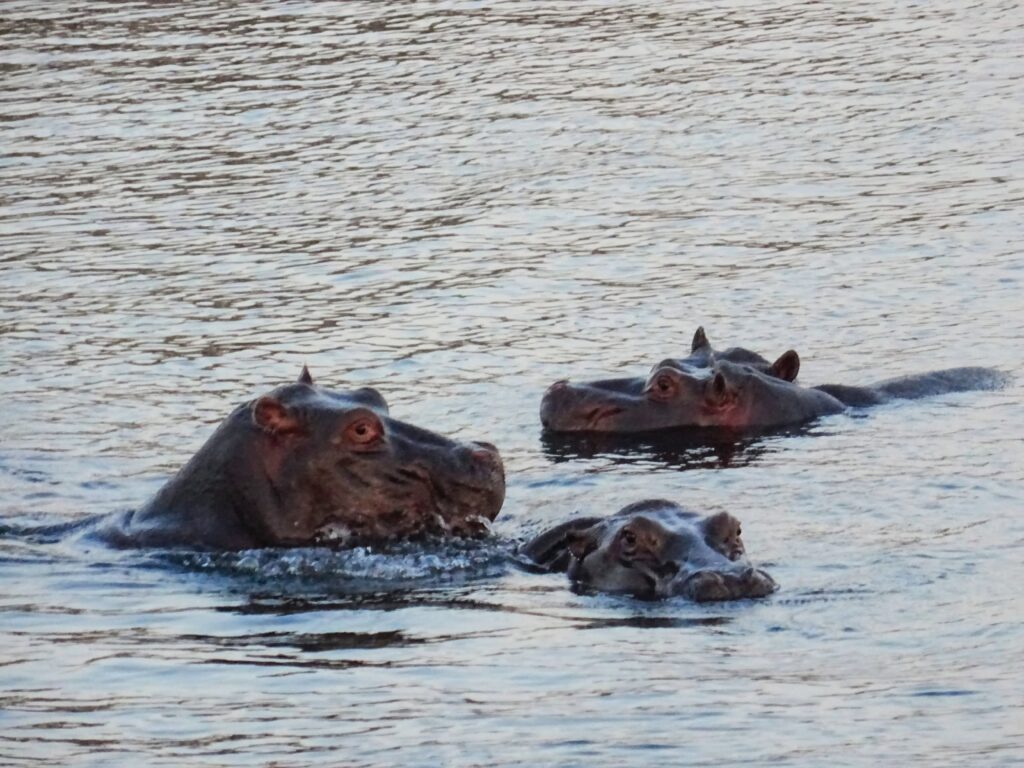 .
Falling into all the activities
The next morning I was blessed with our final breakfast from our lovely chef before I departed the tour. The rest of the group would continue on back through Botswana and into Johannesburg after Victoria Falls. Since we had booked many of the same activities that day, I stuck with the group a little bit longer.
First we went to a guided tour of the falls. Though the majesty of the falls can easily be absorbed alone, the guide provided valuable context about life and history surrounding the falls. The cool spray from the falls was also delightful. This chill morning led to a chill afternoon in which we just bought souvenirs from outdoor market by the village.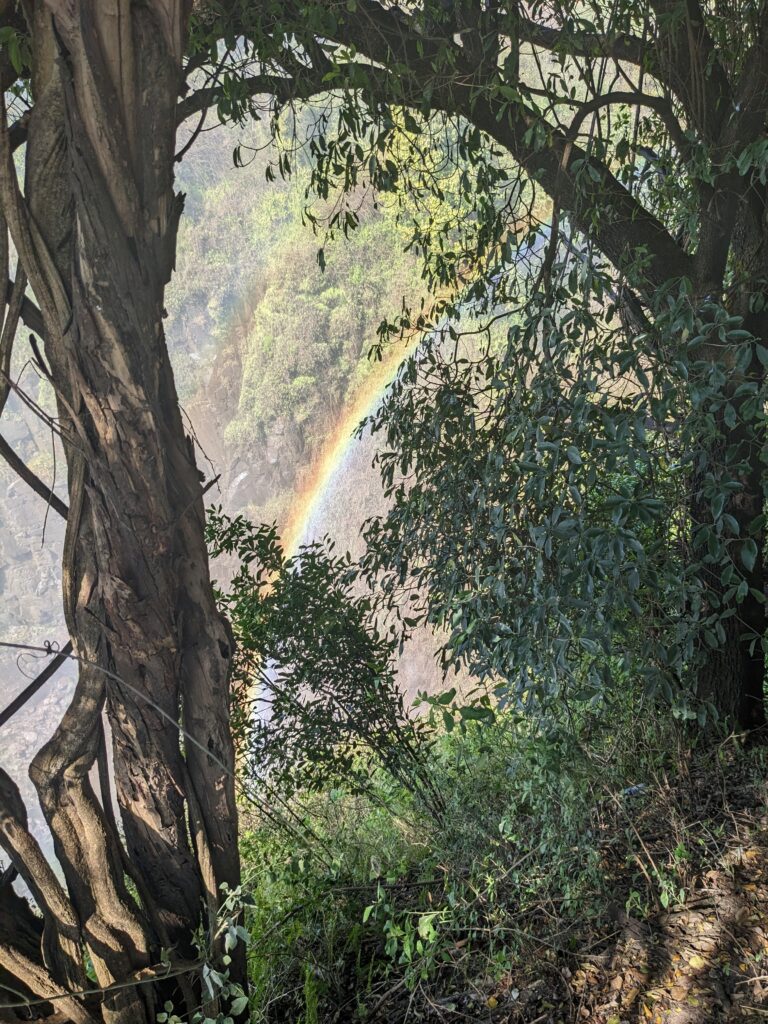 .
Next up was my very first helicopter ride! I splurged on the 25 min helicopter ride, and it was well worth the cost. Seeing the falls from above was absolute magic, and the rivers and gorges were awe-inspiring. One of my favorite parts about flying on planes is seeing nature from above, so a helicopter is even better since that's the focus.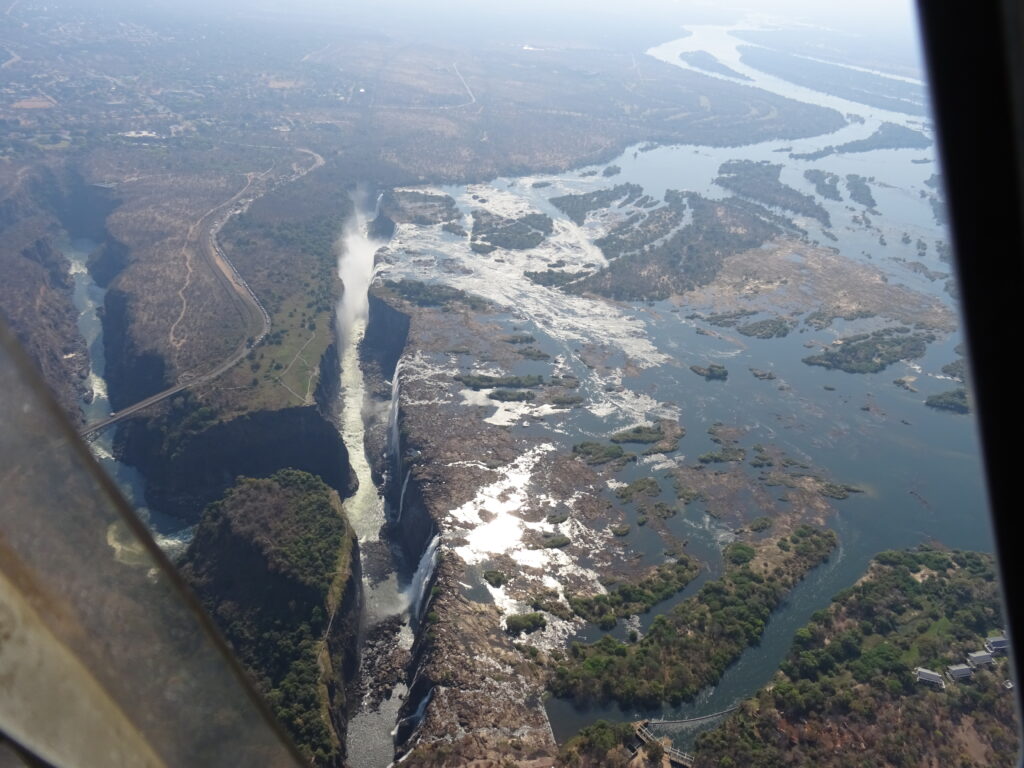 .
To close out the day, I decided to do the very last of the "extreme" sports for me: zip-lining. I'd be lying if I said I didn't panic a little, but the 15 min walk to Zambia—just across the border—was enough to calm me down. Sans appointment I walked in, showed my receipt, and was strapped in before I knew it.
While I don't ever plan on bungee jumping or skydiving again, zip-lining is something I think I could do over and over. I might even try the "flying fox" version, where you're face down.
.
On my own path back to Joburg
After giving our guide, cook, and driver their tips, I picked up my stuff from the tent and made my way to my new "hostel." The quotes are because it ended up being a woman's actual home, with subpar facilities and with her actual children living within. It was an interesting experience. The only other hosteler was a Trojan though, so I guess we'll keep fighting on!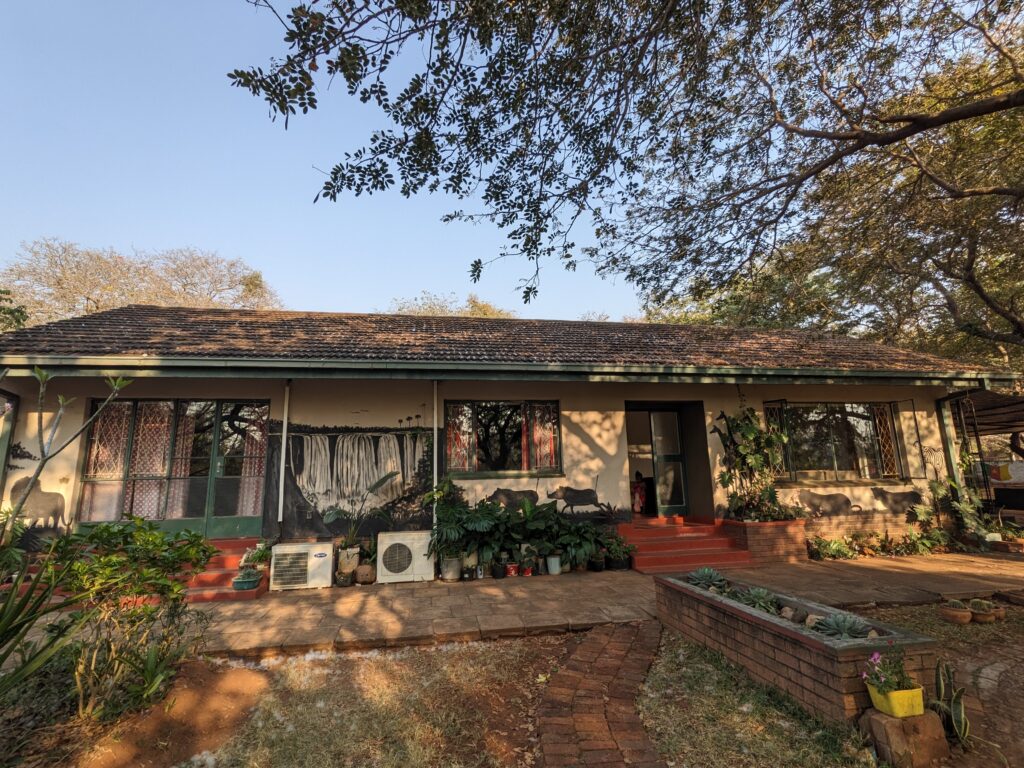 .
The next morning I made my way via cab to catch my flight back to Johannesburg, aka Joburg for the youths. I was pleasantly surprised by the lounge in Victoria Falls Aiport, which was small but with excellent service. Once we were called to boarding, we were off. We ended up departing and arriving early. I waited in immigration almost as long as we were in the air.
I took a Bolt—which is usually cheaper than Uber and taxis, where available—to my hostel, and proceeded to chill the rest of the day. It was a long and exciting week, and I was excited to have a room to myself again at the Curiocity hostel. It also gave me a chance to rest up for the packed days ahead before departing.
.
Joziwood aka Maboneng, or the "city of lights"
The next morning I got to "sleep in" until 9 am for the inner city tour. Full disclosure: I only did this tour because it was all the hostel had to offer on Tuesday mornings, but it ended up being quite possibly the best walking tour I've ever done. There were only two participants, which helped, but our guide was excellent. He joked that he was the king of Jozi (aka Johannesburg), and based on his connections throughout the tour, I'm inclined to agree.
Street art is a major initiative in South Africa, propelling local artists to working with global brands like Apple and Nike. In addition to the art, we also got an interesting perspective on Mandela. This was the first time I ever heard of disdain for Nelson Mandela, and apparently it's common in the younger generations. TLDR: they believe he made too many concessions in the rebuilding of a nation. Given the many similarities between South Africa and the US, I'm inclined to agree.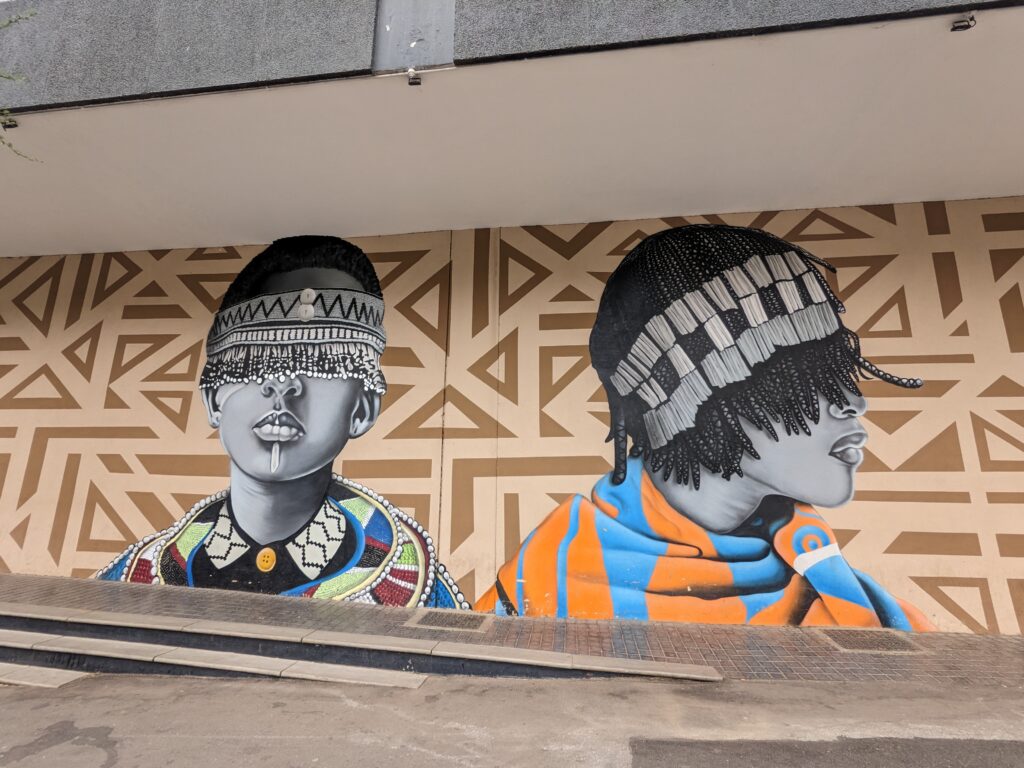 .
We concluded our tour in an Ethiopian restaurant with a celebratory meal in honors of Ethiopian New Years. Good Ethiopian food is hard to find, so I felt blessed that our meal was so freaking good. It also meant that I could skip dinner, which ended up being even more convenient since we ended up going to a show.
.
Closing out the grand adventure
Another guest in the hostel mentioned something about Trevor Noah performing in Pretoria, about an hour away, and I immediately asked if I could join. As per usual, the man was brilliant and insightful, but this time I got to also learn about his South African side and the culture at large. The set was clearly geared towards locals, which meant that I got to learn and laugh at the same time! Plus, he ended up mentioning several things I learned during the course of the trip.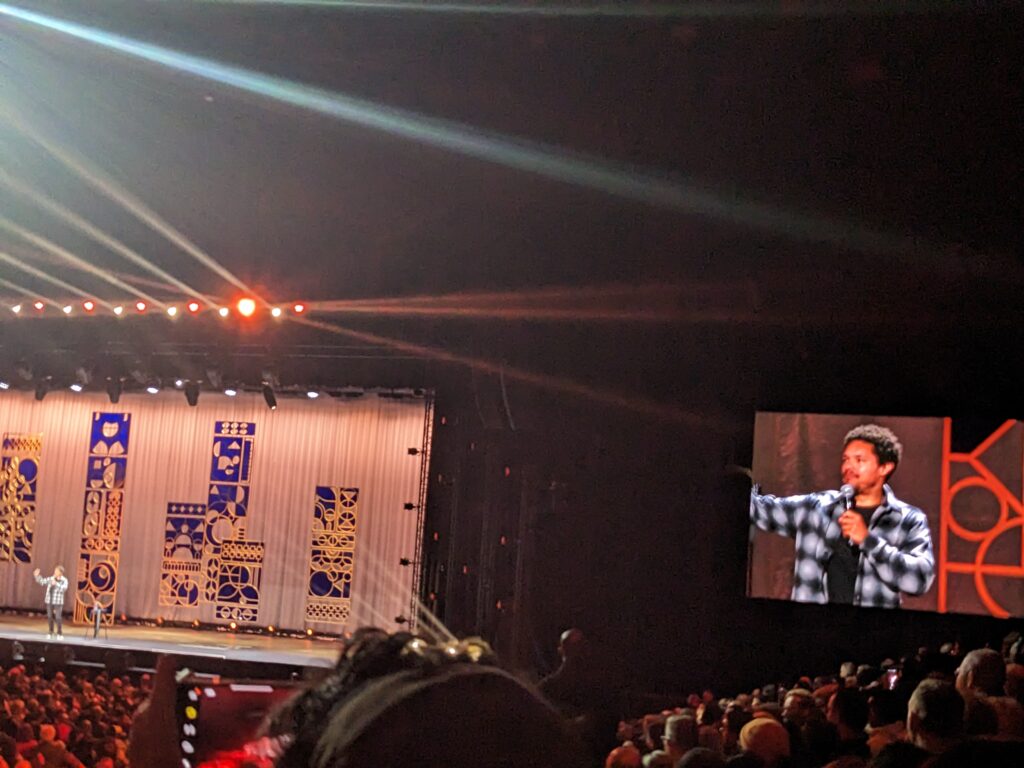 The next morning I packed up my suitcase and put it in the luggage room for safekeeping. I headed out to Constitution Hill, which was recommended by the inner city tour guide. While I paid for the full guided tour, there's enough written on the displays to where it wasn't completely necessary. Some of it was also a bit repetitive to the Apartheid Museum, as this was ground zero for many of the atrocities committed. Still, it is a worthwhile experience to see the scene of the crimes firsthand.
The biggest exception to this repetition is the building where the High/Supreme Court of South Africa is held. The Court being partially built on the ground of this prison shows another way in which the country tries to move forward while acknowledging the past. The constitution is enviably thorough and egalitarian, and on paper I would say that South Africa could be a pioneer in human rights enforcement. Transparency is so central to them that trials are even open to the public! I wish I had another day to view one.
After the tour, I headed back to the hostel to retrieve my bags and make my way to the airport. As per usual, I headed to the lounge (courtesy of my Venture X) for a meal and drinks before my flight. Then I was off! This trip went above and beyond my expectations, and I am so grateful for that.
.
On choosing this trip
There were several options for a trip in South Africa. Using Responsible Travel, I came upon this trip with Intrepid. I chose this specific itinerary because I wanted less than 10 planned days, and I didn't want to think much in terms of lodging and dining. This specific trip also had a 20% discount, likely related to the fact that our trip only had 4 participants on a 15-person bus.
Under 30s have the option of a "Basix" version, in which the participants do the cooking, dining, and tent setup. I enjoy the outdoors and camping, but this trip was meant to be more relaxing for me. I also did not want to check a bag, which limited me both in the amount and the quality of supplies I could bring.
With the B-Corp certification, amazing itinerary through 3 countries, and 20% discount, this trip was a no-brainer. I was also fortunate to be with a small group and with a pleasant Canadian as a roommate. For introverts, it may be worth splurging on the single supplement for longer trips.
.
Good things to bring:
Small US bills for tips (1s and 5s)
Binoculars
2m long USB-A charger for the truck
Camera with good zoom (I had a HXC-600)
South African converter: I bought a EU – ZA converter for 25 rand (~$1.50) in a grocery — other country plugs were not available
Loose summer clothes—I made the mistake of assuming "winter" was actually cool, which was true only in South Africa
Fake glasses/goggles for the winds on the night game drives
Headlamp — my iPad mini worked fine, but if I already had a headlamp I would've brought it