Time flies when you upend your life, let me tell you. For the last month I've lived, worked, and navigated Lisbon, primarily in the neighborhood of Alfama, where I live. It still feels insane to say that. Even though I don't feel like I know enough about Lisbon to have been here a whole month, I've learned quite a bit.
.
Accessible? More like ascend-the-hills
Now this one is partially on my landlord for not informing me. In order to get to my apartment from the car-accessible main roads, I need to climb NINE flights of stairs. Eight flights of stair are outdoors, and one is in the building. Since I moved with nine bags—-some of which were nearly 70lb/32 kg—-I made sure to tip the nice men that helped me home from the airport handsomely. They looked like they had finished an intense workout by the end!
The stairs aren't just an issue for me either—-mail carriers rarely deliver packages to my address because of the inaccessibility. This means I have to walk 1-2 km + all of the stairs in order to retrieve most of my mail. The silver lining is that I'm forced to address my online shopping habit. My shopping will also decrease because there is no Amazon Prime in Portugal; although, the Portuguese do have access to Amazon Spain in either Spanish and Portuguese. [note: there is no English shopping option, but support is available in English.]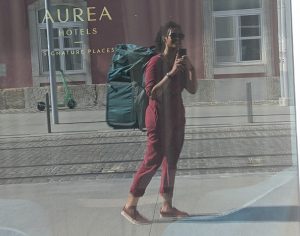 My wallet doesn't just win from this, so do my legs! I've gone for one run since moving to Lisbon, and yet my legs and lower half are already noticeably stronger than when I arrived. Hills are aplenty in the city, so even if you aren't lucky enough to live in Alfama, rest assured you will get a workout living in Lisbon. The sidewalks are also remarkably slippery, so shoes with good grip are a must.

.
Allergies in Lisbon are like I've never seen before
When I first arrived here, my immune system was down-and-out. Not only was I in a new country with a new germ pool, I had been running on adrenaline for a week before my move. I soon developed a constant runny nose with no positive COVID test, which could only mean one thing: my allergies returned with a vengeance.
For context: when I lived in St. Louis growing up, I had noticeable but not incapacitating allergies that were not issues in Los Angeles, Chicago, nor Boston. I thought I was free from this hell as long as I avoided St. Louis in the spring, but Lisbon and its insane pollen count have corrected me. Thankfully pharmacies have plenty of drugs and tissues.

.
My apartment is tiny in unexpected ways
Downsizing was unavoidable with my apartment being less than 45 sq meters (484 sq ft); but I was less prepared for how narrow all of the doors and openings would be. The walkways are well under two feet / 60cm wide, which means I can't stick out my elbows in my hall or any of my internal doorways. The shelving is also a bit shallow for my tastes at less than a foot (30 cm) deep.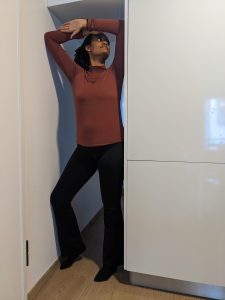 My last apartment building was 2 years old, had enormous doors, and was extremely modern. Now I live in a building that I'm pretty sure is over a century old and doesn't have high-speed internet. That said, this apartment utilizes the small space much better than my prior apartment. I also have a lot of shelving—-almost too much actually, especially since the shelves are so shallow. I do wish I had a closet that fit my suitcases, but that's what bed risers are for anyway.
.
It's the market life for me
This will depend heavily on where you live, but for my apartment in Alfama there's no easily accessible grocery store. There are however at least 6 mini-markets within a 10 minute walk. The lack of choice can actually reduce decision fatigue while grocery shopping. There's only one brand for most things, and they have most staple groceries, home goods, and produce.
Many shops near me are also specialized, so my grocery runs often have multiple trips. I go to a mini-market for staples, a padaria for bread, a charcuteria for meats and cheeses, and the gelateria for ice cream. It's a bit inconvenient, but the quality is better and the items are often cheaper. Shopping is also easy since many of the shop-keepers speak English. Actually, every young Portuguese person I've talked to speaks English, and a majority of the elders too!
.
An English speaker is always nearby
Not everyone will speak English, but I have yet to encounter a place of business with no English speakers. As such, Lisbon is not the place to be for someone who wants to be forced to practice Portuguese. The prevalent English also makes it a hotbed of tourism—-or perhaps the tourism spurred the English. Since I plan on staying and learning Portuguese, I hope to expand my horizons beyond the expat circles and into more local scenes. Thus far, the locals have been both kind and more than happy to help me both with Portuguese and socializing, for which I am extremely thankful.
.
Brazilian Portuguese is a different language
When I arrived and spoke my limited Portuguese, I was immediately pegged as Brazilian. This was not entirely surprising, but I was surprised by the differences between the two languages. Of course the rhythm, some vocabulary, and pronunciation would differ, but even the gerund tense is completely different. Allow me to demonstrate with a simple sentence ("you are talking") in Spanish, Brazilian Portuguese, and European Portuguese.
Spanish: Estás hablando.

Brazilian Portuguese: Você está falando. (There is no tú form in Brazilian Portuguese)

European Portuguese: Estás a falar.
This is pure insanity, and I will not accept any other judgement. It's one thing to not use você in the same way, but this is such a fundamental difference that I have no idea how they possibly got here. I also have a minor gripe with the word for bus (onibus in Brasil vs autocarro in Portugal.) Speaking of…
.
O sotaque de Lisboa é muito difícil para entender
The Lisbon accent is very difficult to understand. As far as I'm aware, Portugal has never been under extended French occupation. Why is it then that Lisboetas drop syllables and vowels like it's French? What is it about Europe that causes a language that is perfectly understandable in South America to become incomprehensible? I would joke that it's the sangria, but Brasileiros have cachaça, which tests my liver like no other. It's also delicious, as far as alcohols go and still does not impede the clarity of Brasil's many accents.
Regardless, I will learn Portuguese one way or another. Being halfway through B1 Portuguese means that I'm still progressing and I could not be happier to be learning and succeeding in a different language. That being said, in the past few weeks I've learned that …
.
Intensive courses are more intense than I thought
My initial plan for when I arrived in Lisbon was to take a few consecutive months of intensive Portuguese (3-4 hours a day, 5 days a week) save for some travels I have planned. After all, it's not like I have much else planned, right? Wrong. Navigating any bureaucracy and new city takes time, let alone one in a different language. Plus I'm taking some self-paced professional courses, trying to make friends, adjusting to different groceries/home tools, etc.
After attempting to juggle these for the last few weeks, I have decided to take breaks in my studies to decompress every 2-3 weeks. This also allows me to absorb and practice what I've already learned. In my first three weeks, I've picked up an insane amount of vocabulary and grammar, and without a break I worry that I would lose it just as fast. Plus I haven't had the opportunity to make flash cards or study materials, and the process of making them is almost more helpful than actually studying the material for me.
Nevertheless, I could not be happier with my decision to attend Lusa language school. The professors and staff were knowledgable, friendly, and accessible—-especially since intensive classes are capped at 9 students. Private lessons are also fairly affordable and good for targeting weaknesses in learning. The school also hosts activities outside of classes, which also give the opportunity to see more of Lisbon and practice new language skills. This post isn't sponsored by Lusa; I am truly that happy with the school.
.
Portuguese history is rich and overlooked
Some facts I've learned about Portugal since arriving here:
Portugal started the African slave trade
The moors built Alfama as a citadel 1400 years ago
The robes in Harry Potter were based of Portuguese school robes, and JK Rowling wrote the first book in Porto
Salazar Slytherin was named after the Portuguese dictator, who ruled for 40 years until 1975
Freedom day (25 April) celebrates the day the army revolted against the fascist regime. Soldiers occupied central Lisbon and showed they were peaceful by placing carnations in the barrels of their guns.
I didn't know much about Portuguese history before arriving, so the revolutionary spirit of Lisbon amazed and enlivened me. Freedom in America often amounts to individual and corporate freedoms. Here freedom feels more communal, even as an outsider.
.
Oh MEO oh my the internet options
The main telecom provider MEO has broken ground in many parts of Portugal, but not my street in Alfama. One interesting fact I learned: when MEO connects a location to the fiber network, they have a monopoly on that connection point for 5 years. My street was supposed to be connected to the fiber grid towards the end of May, but I was alerted that this effort was blocked. Local politics strikes again!
Fortunately in addition to the plethora of cafes and co-working spaces, there are also plenty of mobile hotspot options to connect to the world at large. The data plans here surprised me because many apps don't count against your monthly data limit! Some notable excluded apps include: Instagram, WhatsApp, Spotify, Uber, Facebook, TikTok, and Twitter. Since these apps account for the vast majority of my data usage, I can get away with a much smaller data plan and pay a quarter of what I did in the US for equivalent service.
.
Suprisingly good and cheap transit options abound
Cheap is obviously relative, but my wallet has been pleasantly surprised by how little I've spent navigating the city. Walking is my preferred mode of transportation, but a monthly transit pass within Lisbon is only 35 EUR and allows access to the trains, trams, and buses. A ride on a Bolt scooter or bike is only 0.14 / min, an annual bike pass with the city is about 25 EUR, and the one Uber I took was less than 5 EUR including tip to go 1 km (with a large package up a steep hill, lest you pass any judgement.) I feel no need to have a car here, and that's exactly what I would want out of a city.
.
Lost battles are a part of winning the war of adjustment
While many things have surprised me and tripped me up about life in Lisbon, I have no regrets about nomading here. I expect that I'll learn a lot more over time about life in Lisbon, and I truly cannot wait.