On my way to Ethiopia, I had an overnight 15 hour layover in Dubai. While long layovers aren't ideal, we make do with what we have when traveling! Naturally, I ventured out of the airport and into the city for a quick look at what this city has to offer. There are plenty of tours and recommendations for a layover, but the unfortunate timing of my 15 hour layover (7 pm – 10 am) meant that they were not options this time. One notable exception was 24/7 personal guided tours, which is something to consider for multiple travelers as it is fairly economical.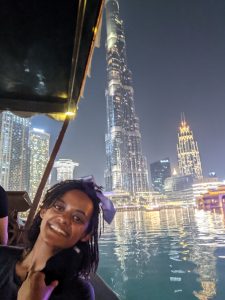 Still, I wanted to see something, so I booked tours on Get Your Guide for the Dubai Fountain boat ride and the Burj Khalifa (~$63 USD.) Many sites recommend taking a cab, but as I'm big on public transportation (NUMTOTs represent!) I decided to take the Metro, which was also an experience. After walking the distance and breezing through passport control, I got on a moderately full train in which I was the only woman for several stops. I had my small underseat roller, and I'm not sure if it was that, my height, my ethnicity, my dress, or my gender that caused a lot of staring. As a seasoned traveler who's also travelled with brightly coloured hair, this was nothing new though.
A quick note: flowy shorts and a looser top would've made my trip much less sweaty. I thought I'd be respectful and cover my skin for my trip with long sleeves and pants. Not only was this absolutely unnecessary given the globalized nature of Dubai, but I was hot as hell because it was 90°F / 32°C at night. Daytime temperatures were in the triple digits.
After arriving at the Dubai Mall stop, I had to walk ~20 min to the actual mall. And then proceeded to spend another 30 min navigating to the Burj Khalifa. Of the many attractions in the Mall, I thought the mirror maze was the most redundant because the mall itself is a maze. Once I arrived, I dropped off my roller bag in the coat check (an awesome amenity!) and stood in line to exchange my online voucher for a physical fountain ride ticket.
The directions to the fountain were mercifully direct and I arrived to a show set to Adele's "Skyfall." After finishing out the show, I ventured to the roped off part of the fountain perimeter for the boat ride. Contrary to my prior beliefs, there is no "tour" during this ride. This gave me the opportunity to take some awesome selfies with my selfie stick before watching the fountain show from within the water.
Being so close to the show, a camera simply didn't do it justice. On top of feeling immersed in this magic, the slight spray from the water falling was a welcome reprieve from the oppressive heat. The show left me cool, in awe, and ready to be impressed by the city from the sky.
After exchanging my voucher for the Burj Khalifa for the physical ticket, I stepped into the elevator completely alone and ascended the 124 stories to the observatory. In all honesty, my expectations were virtually nonexistent. After all, I had been in tall cities and their observatories before and they all felt similar. I was incorrect.
Every city I had ever seen from above before Dubai, I saw during the day. I had an idea of what a aerial city at night looked like, but I'd never seen it for myself and wow. Something about twinkling lights against a dark background is magical. It kind of reminds me of stars in the sky, but down below (and actually visible from within a city.) There were even telescopes with interactive screens so that you could compare day and night, and while there's a lot that is missed, still the night holds an appeal daytime can't imitate.
With unlimited time and a selfie-stick/tripod, I got a lot of cool pictures. There's also a cafe, restaurant, and gift shop if you'd like to prolong your time above the city. After relaxing a bit outside, I left to semi-explore the mall as I tried to find my way back to the metro. The metro closes at midnight during the week, meaning I missed the last train back to the airport and had to catch a cab.
At least a cab stand was nearby and a trip to the airport wasn't terribly expensive. Transportation in general wasn't too bothersome other than the walking from the mall to the metro—though at least I got my steps in and then some. After getting back to the airport and checking in, I found some lounge chairs so I could check out for a couple hours before my morning flight.
Though I didn't get to fully immerse myself in Dubai and experience all it has to offer, I can safely say that I will see more of it in future layovers. I don't see myself ever making a trip out of the UAE, but it certainly adds a sprinkle of fun to other trips. An overnight layover in Dubai isn't ideal, but that doesn't mean nothing can be done! Worst case scenario, the free Wi-Fi is the fastest public Wi-Fi I've ever used (125+ MBPS), so the entertainment options are endless.